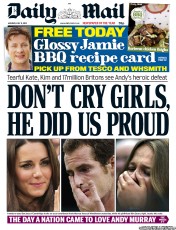 Posted in News
Love all - what the papers say about Andy Murray and his nemesiswhat the papers
9th July 2012
Andy Murray may have lost to Roger Federer, but the manner of his defeat has won him an admiring and sympathetic press today.
Page one headlines capture his heartache and reflect a new editorial respect for Murray. And, on the sports pages, commentators explain just why he deserves praise for coming second.
Look first at those tear-soaked front pages with their very similar main headlines.
The Mail splash, over pictures of Murray, his girlfriend and the Duchess of Cambridge, said: "Don't cry girls, he did us proud". A sub-deck noted: "It was the day a nation came to love Andy Murray."
The Telegraph and the Express agreed with the respective headlines, "Tearful Murray loses on court, but wins the nation's heart" and "Tearful Andy Murray loses Wimbledon but wins over a nation." And the Mirror did the same: "Andy weeps after final defeat.. but wins hearts of the nation." It also had a goodish pun: "Break point."
The Times said: "It all ends in tears for Murray" and The Scotsman said: "Murray's Wimbledon dream ends in tears." The Independent preferred "Andy, we know how you feel" while The Guardian chose "Crying game."
The Metro's pun, "New bawls please" didn't really catch the emotion but the Mirror's pun, "So tear, yet so far", was better. The Star's choice of a Murray quote, "At least I'm getting closer", was reasonable.
By contrast, The Sun's attempt to construct a link between Murray's struggle and the Olympic hopes resting on the heptathlete Jessica Ennis was frankly terrible: "Anyone for Ennis?" (The Mirror did the same on its back page).
Papers devoted almost as many news pages as sports pages to the Wimbledon final. The first seven pages of the Mail covered the event. One spread included five pictures of the Duchess of Cambridge and her sister plus an excellent shot of Boris Johnson and David Cameron grimacing during the game.
In its leading article, the paper said "it would require a heart of stone not to feel sympathy for the determined, and at times brilliant, runner-up, as he shed tears of disappointment… thank you, Andy, for showing such talent, character and courage. You made Britain proud."
Its sports commentator, Martin Samuels, was full of admiration - and understanding. Murray did not choke against Federer, he said, "he lost to one of sport's few living legends."
He wrote of Federer: "As an athlete he deserves comparison with the masters of the universe: Muhammad Ali or Pele. We will tell our grandchildren that we saw him; maybe Murray will, too. Once he can stop crying."
This theme, that Murray had been brilliant, but Federer was a god among men, dominated the commentaries. Oliver Holt in the Mirror said Murray had "unsettled a genius for a set and a half. But then the genius had played like a genius and it was too much."
Similarly, the headline over James Lawton's piece in The Independent, echoed the view that Murray's opponent lived in a parallel tennis universe: "History wasn't against him… unfortunately, Federer was.
Simon Barnes wrote a modern psalm in The Times: "There was a long, lovely moment when it even seemed possible — but then the tears fell like rain and the rain fell like tears, and on the opposite side of the net there was a man playing tennis much in the way that God does when He brings His A-game."
"Federer went to untouchable heights", wrote Kevin Mitchell in The Guardian, but "Murray is not that far behind him and he can be proud of his effort."
He continued: "One day he may be this country's most famous tennis champion… He was phenomenally good but not for quite long enough… In his own mind, and in the opinion of respected observers, he is nearly as good as those players at the summit."
Mitchell also referred to Murray's "spiteful enemies", but there may be fewer of them after yesterday. As Jim White in the Telegraph remarked, Murray's "reaction in the immediate aftermath of defeat was so warm, generous and unaffected, it utterly undermined those who relish dismissing him as cold, aloof and personality free."
Steven Howard in The Sun wrote: "There wasn't a dry eye in the house. Andy Murray was in tears, his mum was in tears and his girlfriend was in tears. And most of Centre Court along with them. It was like a waterfall out there. And to think they had closed the roof to keep the rain out."
Amid the emotion, there was some realism too. Matthew Engel in the Financial Times, saw it in terms of "overblown British sporting optimism" that ended with a "gallant runner-up" receiving praise. He continued:
"But in the big fat book of Heroic British Sporting Failures, this will be recorded as far more heroic than failure… He just happened to be playing the greatest shotmaker tennis has ever seen.

And the crowd sensed this. Wimbledon has always been snotty about Murray: a Scotsman prone to act like Kevin the Teenager, not at all like that nice Tim Henman. But the longer this match went on, the more their empathy grew… One feels this relationship from now on will become ever more intense."
Simon Kelner, writing in The Independent's little sister, i, refused to be carried away on the wave of emotion. Calm down everyone, he wrote, yesterday's match won't have a resonance in future to match that of England's 1966 world cup victory.
Maybe not. But it was undeniably a magical sporting occasion. And the papers properly reflected both Murray's and Federer's amazing achievement in making tennis front page news.
Read more at The Guardian
© Guardian News & Media Limited